TrepStar costs much less to restock your CDBaby store
The Best Quality CD/DVD/USB Fulfillment
CD/DVD Products:
Our low prices include Professional Grade Glossy CD/DVDs.
USB Flash Drive Products:
Our low prices include Professional Grade Tier 1 SanDisk, Micron, Toshiba, Hynix, Samsung, or Intel chips.
The Best Custom CD, DVD, USB Packaging
We use only premium, 100% new material CD/DVD/USB cases, and offer them at a low price.
Cheap cases contain recycled material which makes them brittle and easy to break.
Our prices include full color printing on the disc surface, USB flash drive, and package artwork for the best CD, DVD case design and USB packaging options.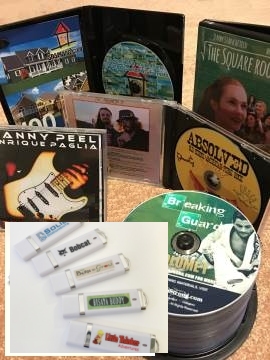 Excellent Service
We are here to help. We offer various levels of support for your custom CD, DVD, USB printing and packaging needs.
Other short run duplicators will quote a low unit price, but that's usually for cheap materials, black & white printing, or high minimum quantity purchases.
USB flash/thumb drive fulfillment
CDBaby was acquired by DiskMakers.com. DiskMakers requires that you purchase 25 or more USB units, and the costs rise when you add data loading and packaging. With TrepStar, there is no purchase minimum for USB Flash Drives. Just like our CD/DVD fulfillment service, you only need to pay for one at a time, and we offer several low cost packages similar to a
CD or DVD case.
In fact, TrepStar can manufacture a single 4GB custom USB flash drive, on demand, shipped to your individual customer, including our EcoPack packaging with all shipping, handling, and postage costs for UNDER $10.00! Most other services like DiskMakers/CDBaby charge about a $10 per unit price only when you order 50 units or more, and that doesn't even include individual customer fulfillment, or packaging.
It's expensive to get CDs made using CDBaby.
Their prices are really high when you need to restock or get CDs shipped to you for your live performances. CDBaby charges almost $250.00 for 25 CDs.
For example, for the same 25 CDs that CDBaby charges nearly $250 to produce and ship, TrepStar.com
charges much less
.
CD Baby is great for digital distribution and their online store is a good choice for music artists, but many of our publishers and artists choose TrepStar to restock their CD Baby online store.
TrepStar.com is a much less costly way to restock your CDBaby store or to buy music for your live performances.
Our prices are MUCH lower for almost any quantity purchased, especially for single or low quantity orders. Our disc and cd/dvd case quality is better, as is our support and product publishing website:
If you've heard of CDBaby.com, and are frustrated by their high cost when you want to restock or order your CDs in low quantity, consider TrepStar CD/DVD on demand fulfillment as the substitute.
CDBaby charges too much for single quantity orders to a single address. For the most basic CD project, the price was $27.82 for economy shipping and a 5 day production time! That's not impressive. We lasted checked their prices on 7/17/17.
TrepStar charges a
low fixed cost
that includes manufacturing, shipping, & handling. We use only the best quality materials and our glossy disc printing looks even better than what CDBaby produces.